With the latest updates to the NETGEAR R7000 "Nighthawk," a flurry of exciting new features and functionality was introduced -- not the least of which is ReadyCloud integration. I am personally a huge fan of ReadyCloud -- it recently saved the day for me, allowing me to access a PDF book for some tech studying that I had falied to copy from my ReadyNAS over to my Surface Pro 3 or my other cloud storage solutions. Now, that same flexibility is available for R7000 owners, so even if one doesn't have a NAS or other ReadyCloud enabled device, they now get this functionality! So, how does it work?
What the heck is NETGEAR ReadyCloud?
In short, ReadyCloud is a secure way to access your network devices from NETGEAR from anywhere you are that has access to an Internet connection and a browser. Traditionally, this has been included on storage devices such as the ReadyNAS, but has now found its way into the R7000 -- which, courtesy of its USB port, can integrate seamlessly.
ReadySHARE Cloud allows you to log in to an online portal, which then, through NETGEAR's software, opens a secure tunnel to your devices at home. You're presented with a familiar looking file and folder view, which can be used to read, view, download, and even share your files with others... without having to upload them to a third party service.
Ok, so how do I set up ReadyCloud on my NETGEAR router?
Thankfully, the folks at NETGEAR have made it really easy to set up ReadyCloud. The first step is to open a ReadyCloud account at the online portal.
Once this step is complete, ensure that your R7000 is updated to the latest version of the firmware, which includes ReadyCloud integration. The router should have prompted you manually to install the update, but you can do it manually if you wish. This can all be performed via the router's built-in GUI, which you can access at 192.168.1.1 from your browser.

After you ensure that you are on the latest update, go ahead and attach a formatted USB drive to the R7000. After the USB drive is attached, head to the "ReadySHARE" tab in the GUI, which is located in the Basic section. From there, select the ReadyCloud dropdown as shown.
You will be presented with a dialog prompting you to enter your ReadyCloud credentials. Use the credentials you selected when you registered through the web portal... and that's it. The magic begins happening right away.
Verifying ReadyCloud is Working on your R7000
Now, log back into the web portal and refresh your browser. You should now see a nice icon denoting that you have added an R7000 connected drive to your ReadyCloud access panel. You will also see any shares from NAS devices that you have attached to the service. This is especially cool if, like me, you have an R7000 and a ReadyNAS in your network.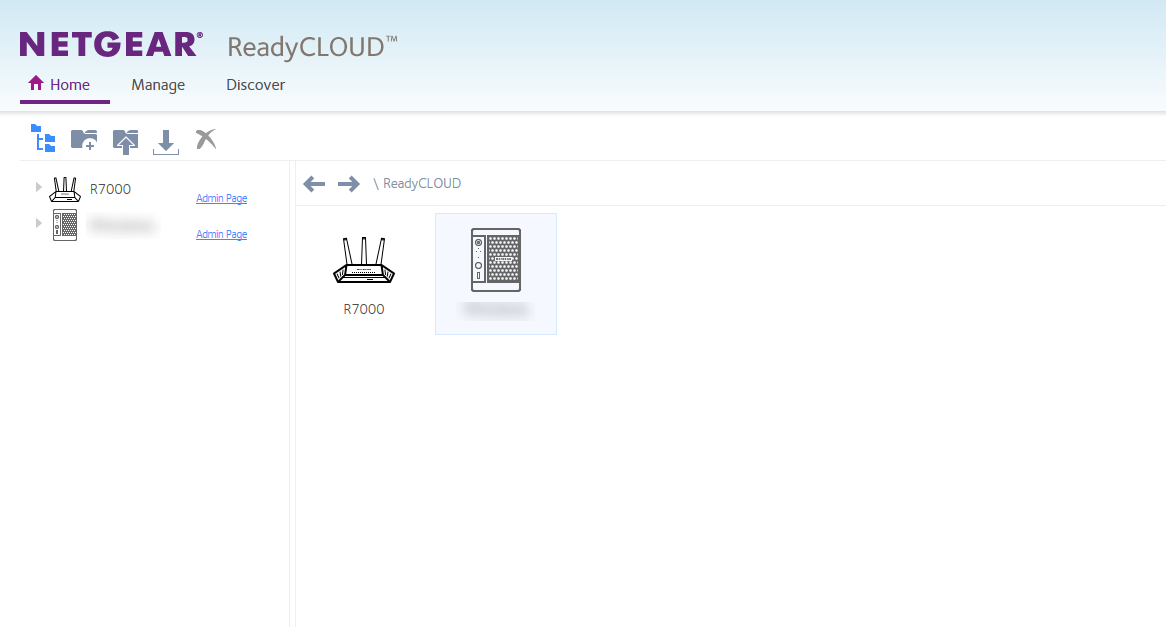 When you double click on the R7000 icon, you will be brought to a panel displaying the files and folders available on the USB attached drive. From there, you can download a copy of the files you have on that drive as well as view them online.
Verify that you can download and view your files, and you're good to go.
Mobile Clients Compatible with ReadyCloud
You can use the web client portal as you have been, or you can alternately download the ReadyCloud apps that are available for iOS and Android devices. This opens up a wide array of additional features:
Streaming DLNA music from your ReadyCloud attached device to your mobile device (DLNA must be enabled on the shares for this to work)
Automatic Camera Roll backup to ReadyCloud
Of course, this is in addition to all the great features of ReadyCloud that you can access on the desktop.
Why would I use ReadyCloud?
This is the $10M dollar question, right? Why would I use this when I could use one of the many online services available? Cloud storage has its place, no doubt. While most cloud storage providers are very reputable and can be trusted to keep your data safe (your author uses several) ReadyCloud is unique in a couple of ways.
First, the DLNA streaming feature. For some folks, managing a music or media library in the cloud can be a mess, with thousands of files to upload, and sometimes hundreds of gigabytes to upload. For someone with a slow connection, this is simply not possible. ReadyCloud makes it possible, then, to access music stored on a NAS from wherever the user is, with no need to upload data to external servers.
Second, keeping your data safe. Again, most major cloud service providers do a decent job of this, with some even taking encryption and security several steps further than others. However, there might be some data you possess that you just aren't comfortable uploading anywhere at all. Family memories, confidential documents, that secret novel you're working on, who knows? You can access them in a safe and encrypted manner with ReadyCloud without having to upload them to another server to live forever and potentially get hacked or breached.
Third, ReadyCloud has no monthly or annual fees. Your data is your data, and you will have access to the full amount you have connected to your R7000 or ReadyNAS. NETGEAR is providing this service essentially for free, and that is something to be said.
Conclusions
ReadyCloud is one of those things that is so simple, yet so complicated. Making your local data accessible over the web in a secure and conveninent manner is no easy task, yet NETGEAR is offering it -- for free -- on several of their devices including this router. What makes ReadyCloud really special is the integration with your home network and mobile devices.
Personally, I think this feature alone, especially for ReadyNAS users, is enough to say that yes, the R7000 is the right router for you. Even without, it's hard to say "no" to a feature that works well and is essentially free for R7000 owners.
Are you using ReadyCloud? Let us know how it's working on the forums!