NETGEAR certainly had an ace up their sleeve when they introduced the XR500 Gaming Router this year. For quite a while now, the name "Nighthawk" has been synonymous with performance, especially for gamers, heavy media streamers, or homes with lots of connected devices or huge spaces needing coverage.
The XR500 really takes it to the next level (pun intended), however. While this router doesn't support open source firmware at time of release, we think the networking community should be stoked. Let's cover the basics first -- the hardware.
NETGEAR XR500 Hardware Specifications
5 Gigabit Ports
802.11AC 2.6 Gbps Wi-Fi with MU-MIMO, Simultaneous Dual-Band
Dual-core 1.7 GHz processor
High performance external antennas
Additional DFS channels for 5 GHz
What makes the XR500 different?
As you can see, the hardware specs are quite impressive. The XR500 is not messing around in the tech department. But... what makes it a better choice compared to other powerhouse routers you know and love, like the R9000? It really depends on what you want to do with the router and how you plan to use it.
The XR500 is optimized for gaming, pure and simple -- however, this machine may be very interesting to fans of high-powered routers in general. Let's take a look at the special gaming features first.
The XR600's Gaming Features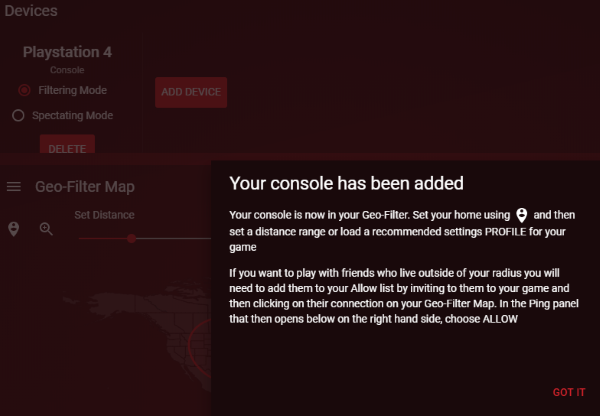 Geo-Filter: Mainly intended for console gamers -- who usually have no control over which game server the program chooses -- the geo-filter blocks server connections far away from you to guarantee a local server. This means faster connections and lower ping times.
QoS: Easy to configure, visual QoS settings to help prioritize consoles, games, and more.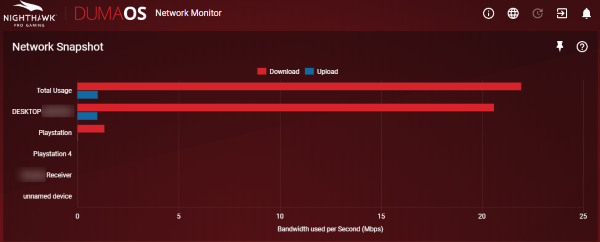 Network Monitor: Easily my favorite feature, this helps you see at a glance which devices are hogging bandwidth with visuals in real time.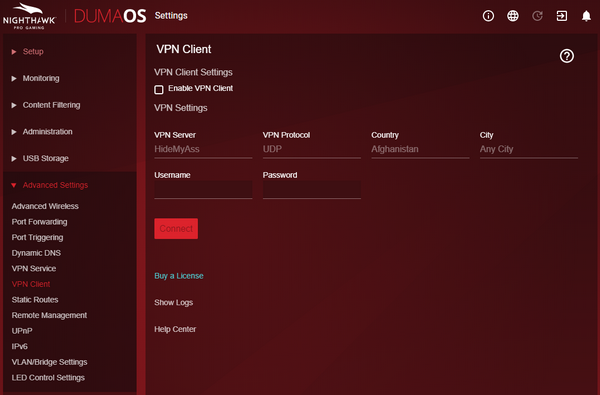 Gaming VPN Client: This is another new exciting feature: a built-in VPN client! This is a rare sight in an out-of-the-box consumer router.
Currently, the well-known and popular HideMyAss VPN, also known as HMA, is compatible with this new feature. If you're not familiar with HideMyAss, it's a paid VPN with a huge network of servers, 5 simultaneous connections, no restrictions, and they don't log your activity. They've been in the game for a really long time (11 years) so we can see why they're a good choice for integration.
For those who want to choose a different VPN however, or those who already have a subscription to another service -- we do hope that NETGEAR significantly expands the list of supported providers for the XR500. Meanwhile, we can't wait to test out this feature.
Wait, what's DumaOS?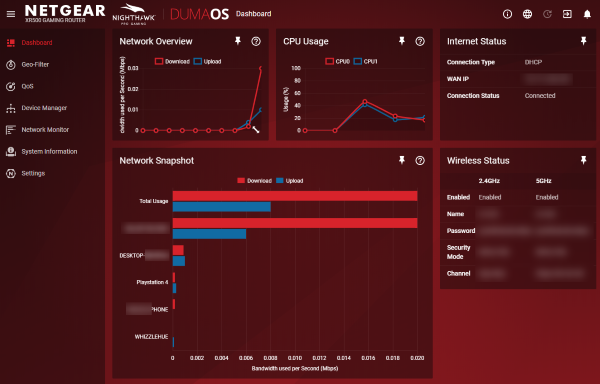 Ah, you finally noticed! The XR500 is running DumaOS, through a partnership with company NetDuma, the creators of DumaOS.
DumaOS is something really special -- it's fast, it looks great, and users can even customize the main dashboard of the router, prioritizing the "apps" most interesting to them -- and now it's running on ultra-powerful NETGEAR hardware.
Can I flash open source firmware to the XR500?
Not yet.
We don't know if there will be firmware ports, or if there are plans for them yet -- of course, we'll update as soon as we do.
Even if you're already running a router with DD-WRT, Tomato, OpenWRT, etc. -- the XR500 could be a great addition to your network as an AP, for example. We're having a lot of fun with it so far -- it's a new, exciting performer with lots of potential for both gamers.. and networking geeks like us!
More Information