Well, NETGEAR has done it. They've built a router that is so far beyond anything preceding it -- so deliciously beefy and powerful that it requires a dedicated fan and heatsink -- and a box that feels like it's loaded with bricks. It's the R9000 Nighthawk X10 Smart WiFi Router. Before one makes a blanket statement such as "that's overkill" or "I'll never need that kind of performance," it's important to take a look at what makes this router truly special, both as an investment and technically speaking as well as the loaded feature set.
A small disclaimer: I have been using NETGEAR routers for years and have generally been a big fan of their performance. I've used more routers than I can count, plus ReadyNAS and Powerline, every day going on 10 years. I won't disguise the fact that I'm a happy customer and have been especially thrilled with this router based on my tests. I encourage you to do your research carefully before you choose a router; my opinion is one of many!
Unboxing the Beast
You didn't think this would be a unboxing video, did you? The box does deserve a mention, however: it's big, and it's heavy. No expense was spared on providing a premium experience when you first release this networking kraken.
First Impressions of the NETGEAR R9000
Honestly, I laughed with glee when I first opened the box and laid eyes on this monster. Like a moth to a flame, my eyes were immediately drawn to the heat sink (yes, the heat sink) and the onboard fan, which are -- in my opinion, intentionally -- exposed. This suggests the power lying within the R9000: an Annapurna Labs 1.7 GHz quad-core processor. (WikiDevi points out this is specifically the Alpine AL-514) The idea being that, according to NETGEAR's official site, the R9000 can handle "anything you throw at it."
This includes the following unique features:
Integrated Plex Media Server; the first in a consumer router (and a three month trial offer)
7.2 Gbps combined throughput
802.11ac + 802.11ad compatibility
Amazon Drive cloud backup (6 month free trial)
Quad active antennas to amplity WiFi transmission and capability for 20+ devices simultaneously
MU-MIMO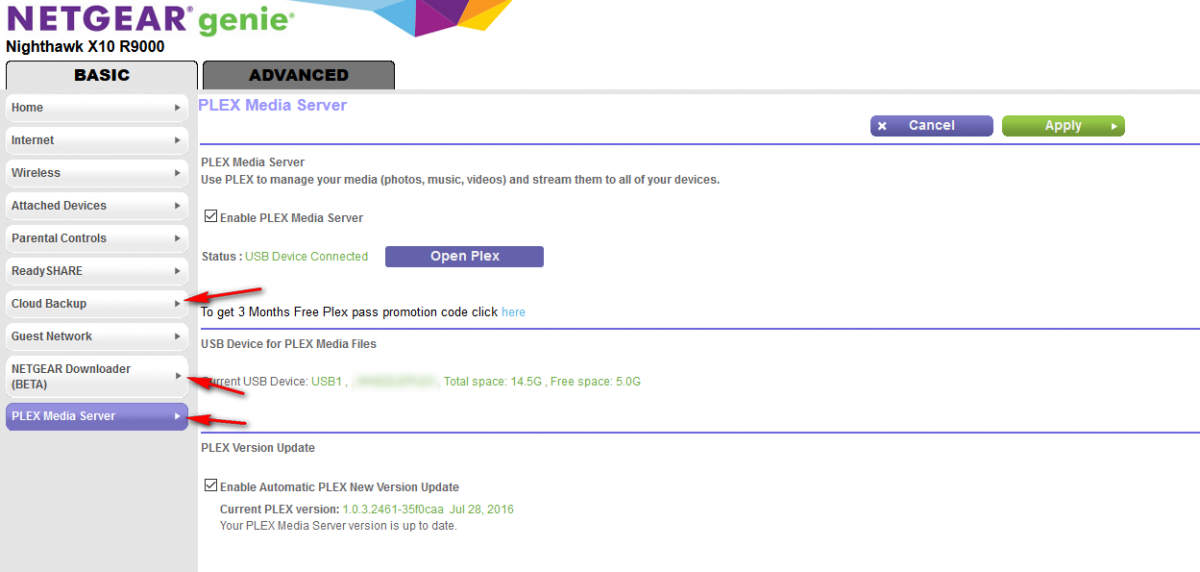 Setup was incredibly easy, as it is with most modern NETGEAR routers. Plug it in and NETGEAR genie does the heavy lifting; create a username and password and you're mostly done, left to tweak settings to heart's delight. The NETGEAR genie screen looks just a bit different from their other models, with some additional features (NETGEAR Downloader, an intgrated torrent client, as well as Cloud Backup and Plex)
Using the NETGEAR R9000: WiFi Range and Performance
What can I say? The performance is pretty stellar. Anecdotally speaking, in a network with 2 high performance mobile phones, a wired desktop, a gaming machine, 2 laptops, 2 tablets, a NAS, a network receiver connected via Powerline, an Amazon Fire Stick, and a PS4 all going at the same time, I've never seen a lag, slowdown, or weak signal yet. Every single bit of my 150+ Mbps downstream connection is maximized by the R9000.
Furthermore, Wi-Fi signal strength is more than adeqate in my ~1800 sq. ft. home. By more than adequate, I mean crazy good.
My router is located somewhat at the front of my home, which is a 1960's split level with a brick front and half basement. In the half basement, I saw signal strength of -46 dBm on 2.4 GHz and -58 dBm on 5 GHz.
Up in the top floor, in the corner bathroom, I saw -66 dBm on 2.4 GHz and -63 dBm on 5 GHz. It was here I noticed the beamforming doing its work; refreshing the signal strength showed an improvement in signal seconds after remaining stationary.\
Finally, the most impressive ad-hoc test I performed involved walking out to the street in front of my home. I saw -63 dBm from the 2.4 Ghz connection and -73 dBm from the 5.0 GHz connection. I performed a speed test on the 5.0 GHz connection, which my phone (Samsung Galaxy s7 Edge) was connected to: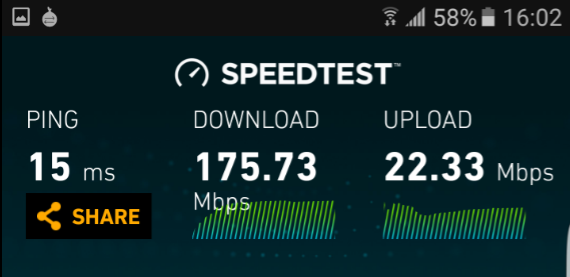 I observed a 175 Mbps downstream, and 22.33 Mbps upstream speed... on 5 Ghz... outside my home standing right by the street, with 3 out of 4 "bars." This was behind a metal door with a screen door, a brick housefront, and a large tree -- at the edge of my yard. This kind of performance indicates to me that the R9000 could easily blanket a 4,000 square foot home twice the size of mine and beyond in blazing fast coverage. Of course, every situation is different -- and in mine, I'm in networking heaven.
Integrated Plex Media Server
Aside from the aforementioned performance, the integrated Plex server is pretty cool, and an ideal solution for those who don't want yet another box to mess around with; it's all there inside one machine. I am currently delving into the features and daily use of Plex and plan on reporting back with my findings, but so far, the setup is easy and even with a USB stick, pretty responsive.
Should I buy the NETGEAR R9000?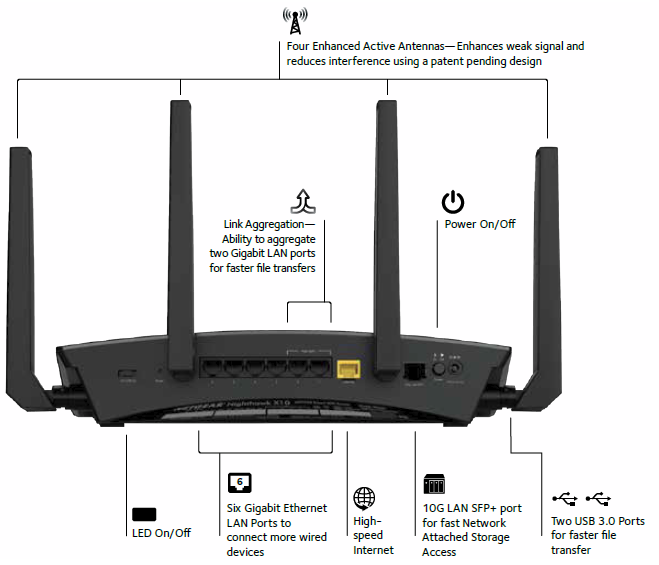 After using the R9000 for about a week now in a moderate to heavy use environment with several varied devices, many of which are used for gaming or video streaming, I can say that I am very happy with it. WiFi performance is "off the hook" as the cool kids say and it barely breaks a sweat in my home, providing Wi-Fi coverage throughout the entire house, plus the entire yard, plus (most likely) all of my neighbors. Good thing I use encryption. Considering this plus the extensive feature set and future compatibility with 802.11ad, the R9000 is slated to be an excellent choice for those who demand only the best and biggest for their home router. OpenWRT firmware is available for the NETGEAR R9000, too, for those who love to tinker with open source. I was also pretty happy with the included trials of supported partners, e.g., Plex and Amazon. This allows you to test out these services to see if they'll work for you, without a heavy commitment. Thanks to NETGEAR for making that happen!
The one downside of this router that I feel compelled to mention is the elephant in the room: its price. $499 USD is a very hefty sum to pay for a consumer router, even one with a built-in Plex server, and is certainly more than the minimum I'd need to have a comfortable experience. I'd do just fine with the R6400, R7800, R8000 -- or perhaps even less expensive models.
However, the sheer satisfaction of knowing my router is probably more powerful than half the devices in my house is enough in itself. If you feel the same, it somes highly recommended by yours truly.
Features and Specifications of the NETGEAR R9000 Nighthawk X10
Two (2) USB 3.0 ports
802.11ac Quad-Stream Wave2 WiFi plus 802.11ad WiFi
Plex Media Server—Stream your media on all your devices
Powerful 1.7GHz Quad-Core processor
MU-MIMO ‡—Simultaneous streaming of data for multiple devices
Amazon Drive cloud back up
ReadyCLOUD® USB Access—Personal & secure cloud access to USB storage anytime, anywhere
ReadySHARE® Vault—PC software for automatic backup to USB hard drive connected to the router
DLNA® Server—Find & play your media on TVs & game consoles
VPN support—Secure remote access to your home network & Internet
Enhanced Parental Controls—Manage web filtering & accessibility by profiles or devices
NETGEAR® genie® home network manager includes remote access to manage your network away from home
NETGEAR Up app — Easily set up, update, and configure your router
Open source software available
IPv6 Support (Internet Protocol Version 6)
On/Off LED light switch
Customized free URL to set up personal FTP server
VPN support—secure remote access
Guest network access—separate & secure
WiFi Protected Access® (WPA/WPA2—PSK)
Double firewall protection (SPI and NAT)
Denial-of-service (DoS) attack prevention
Powerful Quad-Core 1.7GHz processor
512MB NAND flash and 1GB DDR3 SDRAM
Dimensions: 8.81 x 6.61 x 2.91 in (224 x 168 x 74 mm)
Weight: 4.11 lb (1865 g)