So, you've got the next great hacking tutorial for one of the new NETGEAR Nighthawks, huh? Or maybe you want to put together your opinions on a new NETGEAR extender into a community review? MyOpenRouter is the place, and we'd like to show you how easy it is to contribute.
When an Article Should Be Written
There's a right time and a wrong time to submit content as an article! (We know, too many rules, eh?) Your content will be most useful to the community it it's in the right spot. Here are some situations where you would NOT want to write an article:
You want to post a first impressions or unboxing of a new product
You have a question or concern for the community
You are looking for advice or opinions from the community
In those cases, you're best off posting as a comment in our official forums, which you can find here.
However, you will want to submit an article in situations like these:
You'd like to write a detailed tutorial on how to do something, e.g., install or configure firmware
You would like to write a detailed review on a product, with pros/cons, images, etc.
You want to put together an opinion piece on open source or networking in general
Anything that is very detailed and requires multiple steps, sections, etc
We know writing an article takes time, but fortunately, on MyOpenRouter it's very easy! Here's a quick tutorial.
How to Submit an Article
First, you can click here to get started.

Click on the "Article" link to begin your creation.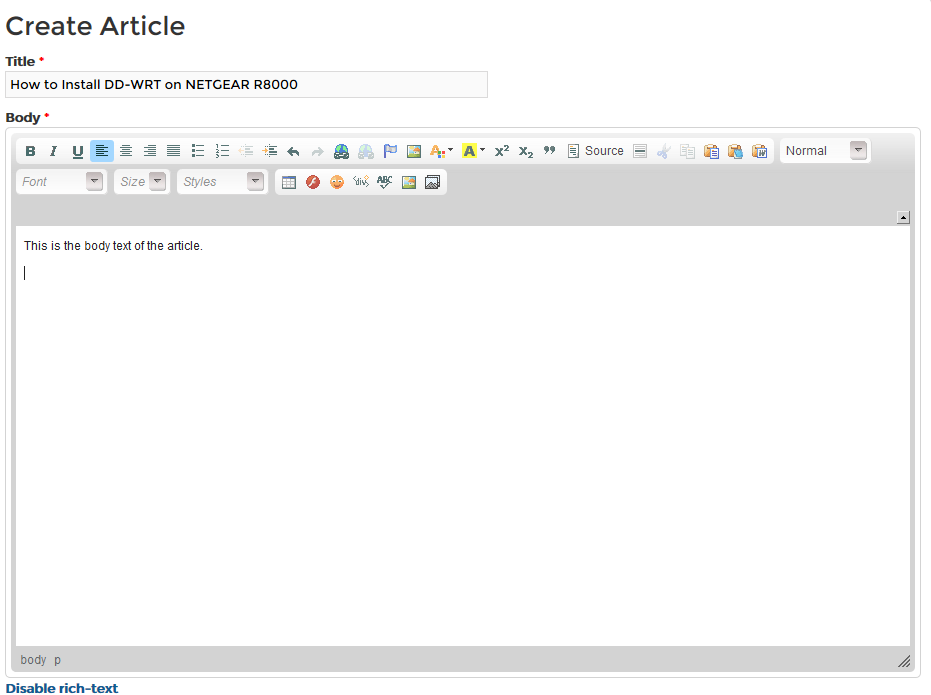 You will see a screen much like the one above, with an editing bar filled with icons that should look familiar to other word processing clients you may have used. You can select various text formatting options, bulleted or numbered lists, add links, and more.
Adding Images to Your Article
Adding an image takes a few extra steps.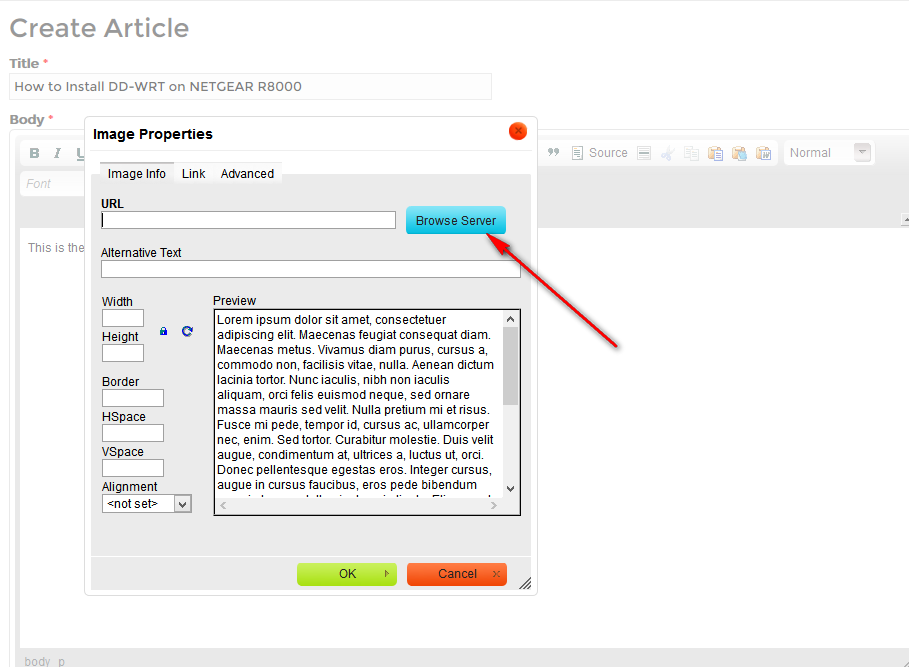 First, click on the small image icon in the right side of the toolbar that looks like a small photo. Then, click the "Browse Server" icon in the popup box.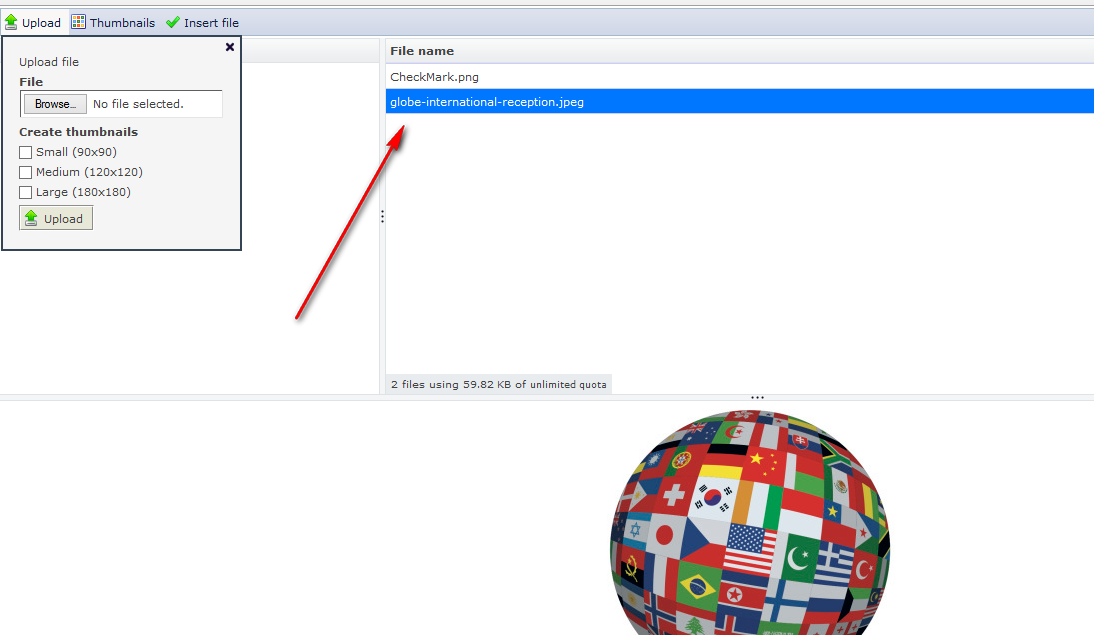 You can upload an image from your local machine using the "Browse" button, which will bring up your file manager. Once you select an image, it will upload to the server. Then, double click on the line item as shown above.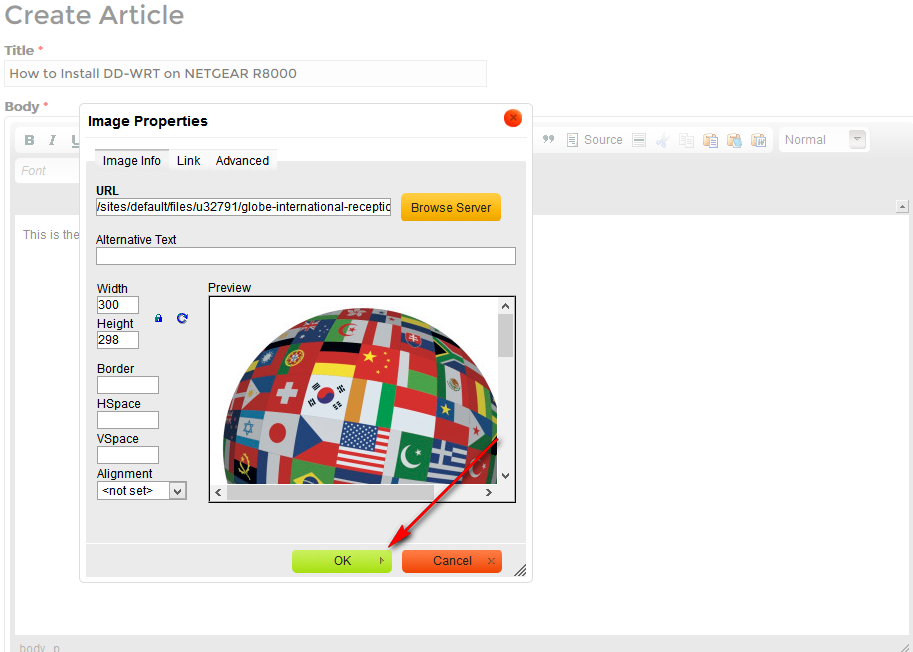 You can set additional parameters on the photo (scaling, whether or not you want a border, etc.) and once you click the "OK" button, the image will be inserted into the body of text. Simple!
Final Steps
You're almost set!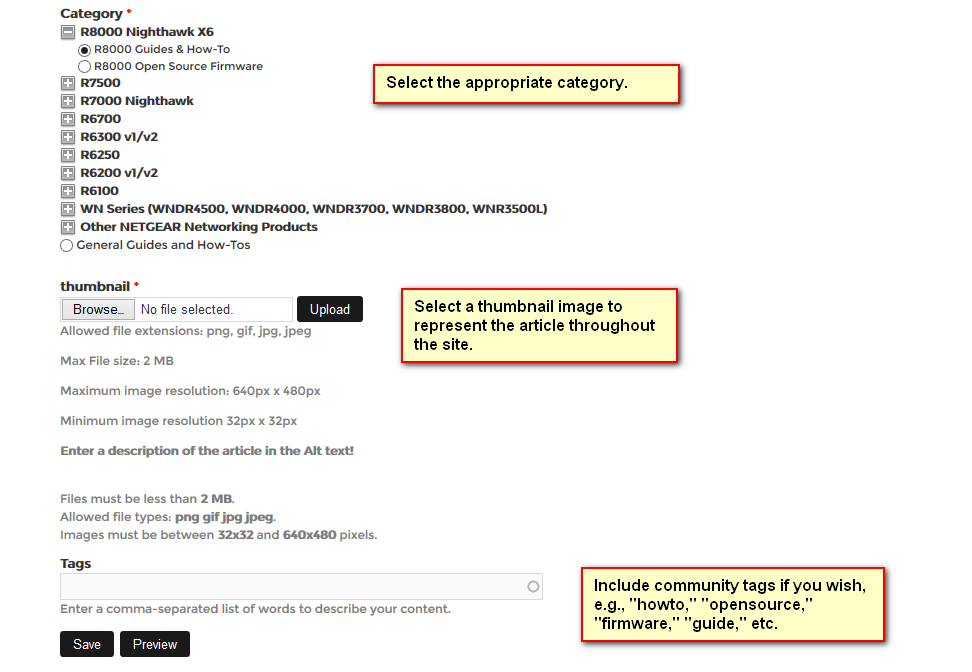 Below the body text, you'll see a few options. First, the category select tree. Click the router or product group you are writing about, then click the appropriate topic -- in this case, "R8000 Guides and How-Tos." Then, you can upload the image you'd like to represent the article throughout the site, also known as the thumbnail. Finally, you can optionally add community tags to help discover your content.
Submitting Your Article
Once you finish your article, it will be sent to the administrators for approval. Don't worry, we'll make any final changes or tweaks to make sure your article looks great on the site, but we won't edit your content. If we have any input or questions, we'll be in touch.
Thanks again for being a MyOpenRouter member and enjoy the community!