Today, NETGEAR has announced the arrival of what is claimed to be the fastest Wi-Fi router yet to date -- the R9000 Nighthawk X10.
There are so many reasons why the X10 might just be a game changer. It addresses directly the concerns of many networking geeks: high performance for a larger number of wireless devices than ever before, along with offering the newest 802.11ad standard as well as numerous features to empower high bandwidth streaming needs. The R9000 even features an integrated Plex server, empowered by the onboard 1.7 GHz quad-core processor. To our knowledge, it's the first consumer router to offer this as an onboard feature.
Of course, as we mentioned earlier, the R9000 supports open source development, and right out of the gate Tathagata has gifted the community with an OpenWRT release for the R9000 X10 Nighthawk.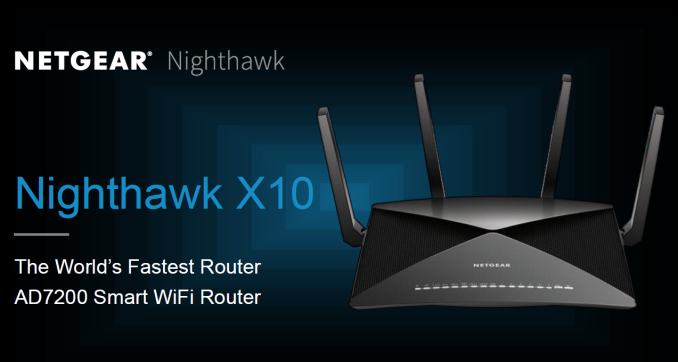 We could keep on piling up the impressive list of cool goodies the R9000 offers, so to make this easy, here's the list from NETGEAR's official site:
802.11ac Quad-Stream Wave2 WiFi with MU-MIMO—Delivers WiFi to multiple devices simultaneously
60 GHz 802.11ad WiFi—Fastest WiFi interface up to 4.6Gbps† for ultra-high speed downloads and backup
Plex Media Server—All your movie, TV show, music, and photo collections, on the devices you love
Powerful 1.7GHz quad-core processor—Boosts performance for gaming and streaming
Four enhanced dual-band Active antennas with high powered amplifiers—Maximizes range and throughput
Amazon Drive cloud back up—Automatically backup your precious data to the cloud
Six gigabit Ethernet LAN ports and 10G LAN SFP+ port—Offers rich wired connectivity options
New NETGEAR Up installation app—Easy mobile installation
We can't wait to get our hands on one of these, and we'll be sure to provide as many updates and feature reviews as we can about this awesome new router. Head on over to the R9000 forums to ask questions or share your experiences with the new R9000 X10 Nighthawk!
[More information regarding the R9000 launch is also available in AnandTech's announcement, see here.]